Rogz' wide range of products come in a variety of designs and materials so you can get the perfect one for your best friend. Our stylish range of products ensures you can experience every activity to the full.
When we talk range, we're talking about more than activity though. We're talking about the material and the components that go into making a product perfect for that activity.
Rogz' products are divided into seven ranges. Let's unpack them!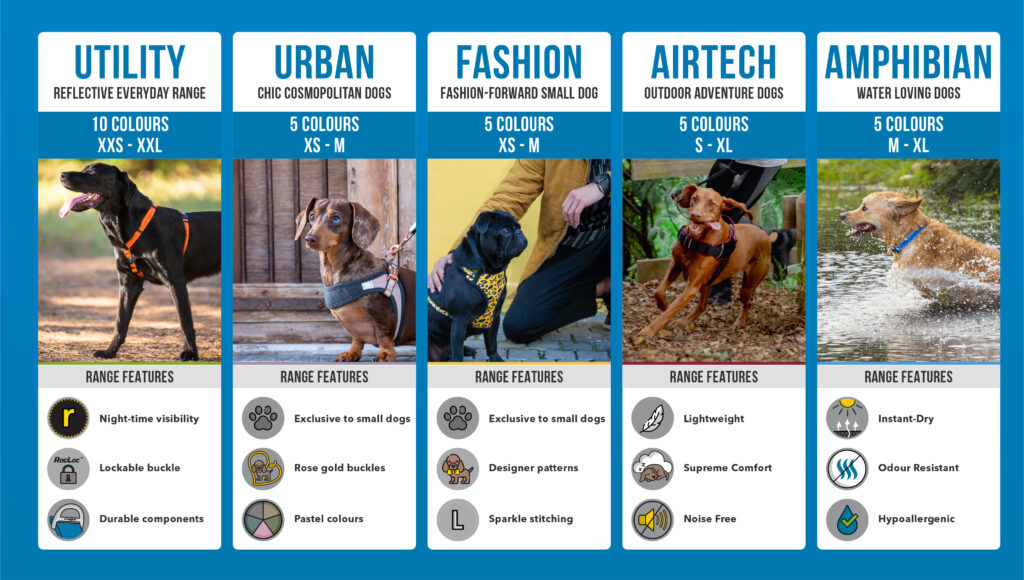 The AirTech Range is made using fabric that has soft, smooth rounded edges and a diamond mesh. All connectors are made out of fabric too, meaning there is no metal hitting against each other making noise. This means your outdoor experience is enhanced because your pet gear is ultra lightweight, offers supreme comfort and is noise free.

Best Used For: The AirTech Range is perfect if you want to experience nature at its best and experience a light, comfortable adventure. Whether it's a long distance run, trail running excursions, sunrise strolls along the beach or even neighbourhood runs at sunset, the AirTech Range is for you.
The Amphibian Range is made with bright duotone webbing and black trims. It has nonporous PVC coating, making it ideal for water bound activities, exposure to dust, dirt and activities on those crazy weather days The Amphibian Range is designed with your bestie's comfort in mind. It has smooth edges to prevent chafing or irritation, so your bestie can wear it comfortably throughout the day.

Best Used For: The Amphibian Range can be used for various outdoor activities, including training, swimming, hiking, camping, and beach visits. It can also be used in various weather, so bring on rain, shine and snow!
The Rogz Urban Range is a sophisticated range with soothing pastel colours stitched onto soft plush webbing complete with rose gold trims. This range is perfect for small dogs wanting to be part of the urban chic, cosmopolitan culture without trying too hard.

Best Used For: From heading out to a high-tea with the girls and strutting down the promenade in matching outfits, to shopping, a leisurely walk and just lounging on the couch in the sun, you'll be sure to look and feel great with the Rogz Urban Range.
The Rogz Utility Range is remarkably strong and deliberately durable making it the most popular range worldwide. Made from traditional nylon webbing with highly reflective stitching that increases visibility, this functional range is suitable for day and night.

Best Used For: In one word, function. This range has a lot to offer and it all feeds into function. From classic solutions for a quick walk around the park, trip to the vet, stroll on the beach or coffee run with the crew, to behaviour correction solutions for a little more effort to control and train your dog, this range has what you need.
The Rogz Fashion Range is a designer range for small dogs with African safari inspired prints stitched onto soft plush webbing. Your furry friend can strut their stuff in a wildlife print that reflects their unique personality. This range is padded for extra comfort and has lurex stitching for a bit of extra sparkle on those night time adventures.

Best Used For: Fashion has no limits. This range is all about personality. It doesn't matter if you're heading out for a walk, going to the shops or running errands, the Rogz Fashion Range is perfect for a quick-fit solution for our adventures.
This range includes fashionable dress-up-and-go, head-turning designer gear. The Rogz Fancy Dress Range features uniquely designed graphic ribbons stitched onto pure high-grade nylon webbing. Inspired by the latest trends, these originals are a must-have especially for those important and special occasions.

Best Used For: If you're looking for a functional solution for those everyday activities with a bit of a fashion twist, then you need this range. Put a sparkle on your everyday walk around the neighbourhood, trip to the shop or stroll around the park with the Rogz Fancy Dress Range.
One of the first ranges introduced and named after a climber of high mountains, the Rogz Alpinist Range is for the adventurous dog. This range is made from nylon webbing and has a subtle replicated Rogz log. This range is the ideal combination between strong and soft-to-the-touch.

Best Used For: This range is perfect for that sporty branded outing. If you're an active, no-fuss pet parent, then this is for you. This will give you that sporty feeling on your walking, hiking and running adventures with your bestie.
Pick the Perfect Gear For Your Adventure

If you still can't quite figure out which dog harness best suits your needs, not to worry. You can check out our blog 'How do I know which harness is best for my dog?' for more tips and advice when it comes to picking out a dog harness for your bestie.